Efficient Solutions

for Information and
Directory Services
Most up-to-date, top quality address data
Significantly reduced error rate
Quick & reliable, even during times of peak demand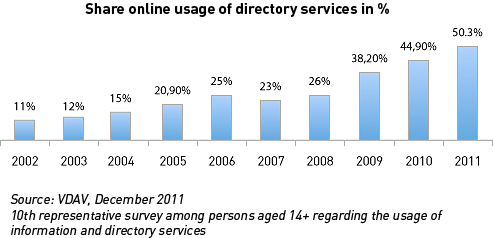 The Challenge
The use of information and directory services is increasingly shifting to the online sector. Users expect data to be updated daily. The highest quality up-to-date data needs continuous maintenance and inspection. We can help you manage your data more effectively and provide dependable support in data research and maintenance.

Please contact our service team to get
a personal consultation and discuss your project.
We look forward to your request!
Your Benefits
Cost-effective
Efficient order processing
Scalable
Over 500,000 Clickworkers are ready to process large orders in a short amount of time. Seasonal peaks in demand can be easily handled.
Quality assured
Multi-level quality assurance procedures guarantee uniform high quality results.
Up-to-date
Unlike providers of address databases, our data research is done by hand – the exact information you need – up-to-date and with significant error rate reduction.
Groupon GmbH:
""We decided quickly on clickworker since working with them is easy and highly effective."
Case Study: Address Research for Axzo
Read our case study to find out how our Clickworkers helped Axzo to optimize its customer and prospect lists to improve sales conversion.
Featured In
Our Customers