FAQ Rich Snippets – the new SEO booster?

Question – Answer. A simple scheme that everyone understands. And because Google is constantly working on making searches more and more convenient for users, the answer to the question often appears at the top of the result list immediately after a question has been asked – as well as a free drop-down menu with more FAQs. These are FAQ Rich Snippets – coveted by many SEOs, but not uncontroversial because these Rich Snippets do not necessarily lead to more clicks. What is so interesting about Google's relatively new feature?
FAQ Rich Snippet – what is it?
The Google FAQ Snippet is a relatively new development from Google. It was introduced in 2018 and officially launched in May 2019. Since then, Google users are seeing it more and more often. For example, if you want to know something about content marketing, you will get this kind of result: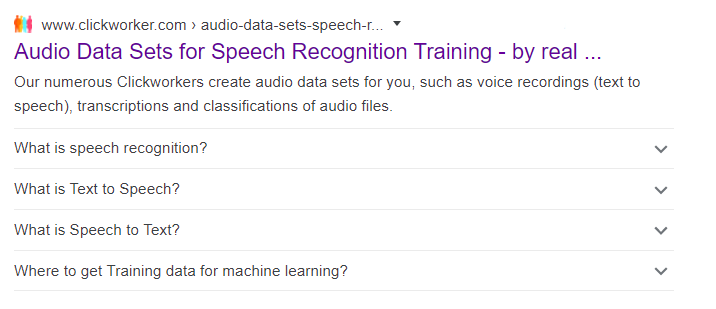 In addition to the usual list entry, which generally consists of the three elements Meta Title, URL and Meta Description, the user is already given a selection of questions on the Google page. Simply click on the question and the answer appears. It looks like a paid ad, but it costs nothing – only a little programming effort is required.
The benefits of FAQ Rich Snippets
Want to have your website highlighted by a drop-down list on Google? Preferably above the regular search results? And getting all of the benefits without paying expensive rates for Google Ads? Of course, the position zero (which is above average in FAQ snippets) is of great interest to SEO experts. And the advantages are obvious:
The FAQ Rich Snippet attracts more attention at first glance. Not only on the position zero, but also when it is listed a bit further down.
he entry takes up about twice as much space as a normal list entry on Google, sometimes even more. It displaces competitors and is also graphically highlighted (for example with a light grey background). On small displays, it sometimes even hides all the competing offers in the visible area.
FAQ Rich Snippets provide ideal templates for the voice output of the Google Assistant. This is especially important in view of the growing importance of voice search on mobile devices.
The snippet shows the user the competence and relevance of a website with regard to a specific topic. This is particularly important for the new E-A-T-Score, which stands for expertise, authority and trust at Google. It is a key indicator for good content that scores points at the largest search engine.
Tip:
FAQ rich snippets and good web content can also be written by Clickworkers.
Curse or blessing?
FAQ snippets also have a noticeable disadvantage. If the user's question is answered directly at Google, he usually has no reason to click on the website behind it because Google has already displayed the content (the answer). However, this disadvantage is balanced out by two factors:
The increase in attention boosts the reputation of the website. Larger, more conspicuous and higher ranked impressions on the Google result list compensate for declining click-through rates. In the end, the absolute click-through rates increase.
The answers leave space for hyperlinks – for example to other subpages of your own website. As a result, a Google entry becomes a potential source of visitors for several addresses.
If you still want to prevent Google from presenting questions and answers in an FAQ snippet, you can easily inform the Google robots. The following code snippet is all you need:
<meta name="googlebot" content="nosnippet">
How a FAQ snippet works for Google
The key to a FAQ Rich Snippet is structured data. This helps search engines to better understand and assign content to a website. Obviously, Google is so advanced that the algorithms automatically understand content in the form of questions and answers. A logically structured website with headings, subheadings and paragraphs containing interesting content is often sufficient for this.
But the uniform FAQ scheme can help accelerate this process even further. Technically, this works via micro data and JSON-LD.
HTML tags (i.e., the basic elements of a website) can be provided with additional microdata to explain their meaning in more detail.
JSON-LD has become the standard for FAQ snippets. Here, questions and answers are recorded directly in a JavaScript code. The markup for this is provided by Google itself.
Tip: If you want to save yourself time-consuming programming work, just search the net for the keyword "faq schema generator".
Of course, a rule-compliant code is no guarantee that Google will actually play the FAQ snippet. Here again, the usual ranking rules of the big search engine, which are usually difficult to understand, apply. Concerning FAQ rich snippets, Google's developer guidelines point out additional dos and don'ts. This means that the questions and answers noted in the FAQ markup must actually be available on the website.
Summary on the use of FAQ Rich Snippets
The answer regarding the efficiency of the new FAQ Rich Snippets is that there are clearly more advantages than disadvantages. The big worry is of course that visitors will not go to your website if Google provides the answer to a question. But the guaranteed higher attention compensates for lower click-through rates. A good FAQ snippet presents a website (and the company behind it) at first glance as an expert in a particular field. This position leads to lucrative synergy effects in the long run.